"That said, Trump is the presumptive GOP nominee and that makes him a legitimate news story. It is still important to document his proposed policies, his record, his statements on a variety of issues and what all that means to the black community. Ignoring him and where and how he resonates with the rest of America would be done at the peril of the black community. I don't see how we can fail to inform the citizenry, regardless of how they choose to act once armed with the information."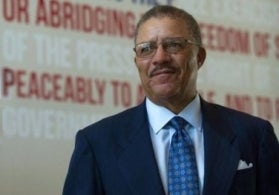 DeWayne Wickham, dean of the school, said Trump's candidacy represents such a threat that news organizations should work even harder to expose him.
"What surprises me is not that just 1 percent of African Americans back Donald Trump's White House campaign," Wickham messaged. "I'm surprised that he has more than a single digit approval rating with people of any race, religion or ethnicity.
"Trump is a cross between Joseph McCarthy, a homegrown terrorist of another era, and Benito Mussolini, the Italian fascist who rose to power in 1922 by falsely promising to make Italy great again.
"Like Mussolini and McCarthy, Trump eventually will be seen as the soulless opportunist he is. Until then, news organizations, especially those that target minorities, should work around to clock to expose the very real threat he poses to this nation."
At the online outlet The Root, Managing Editor Danielle Belton said the polling information "adds an extra layer" to how the website would handle Trump.
"It doesn't change coverage, but it does add an extra layer to it," Belton said by email. "As we've been covering this election our audience has been very vocal in their feelings about Trump and overwhelmingly those feelings are not good ones, but it is our job to focus on the facts, good and bad, so that our audience stays informed. We'll continue to write about Trump and his supporters, including his black supporters, but we're also not going to ignore the more problematic issues surrounding the presumptive GOP nominee."